What Types of Messaging Should Your Business Be Sending? (It's Not What You Think)
As a business owner, it's important to understand the different types of messaging and how they can achieve the desired results. The message you send out to your target market will determine whether they purchase your products or services, recommend you to others, or partner with you. You want to put some thought into the message you share with the world because it will shape people's perceptions of you and your brand.
WHY MESSAGING IS IMPORTANT? WHY SHOULD YOU CARE?
The message you send will also attract certain kinds of people and repel others. If you want to attract a certain type of customer or client, then you need to be intentional about the message you're sending out.
For example, if you want to attract stay-at-home moms who are looking for ways to earn an income from home, then you wouldn't want to use language that is too technical or jargon-filled. Instead, you would want to use language that is relatable and down-to-earth. You would also want to share stories and content that speaks to their pain points and desires as stay-at-home moms.
If you want to attract businesses that are looking for someone to handle their social media marketing, then you would want to use language that is more professional and shows your expertise. You would also want to share case studies and stats that show them why they need someone like you on their team.
The bottom line is that the message you send will determine the people you attract. So, if you want to attract your ideal customers or clients, then be intentional about the message you're sending out into the world.
THE TYPES OF MESSAGING YOU SHOULD HAVE IN YOUR BUSINESS
The Only Way to Stand Out in Your Industry and Get More Clients
In the online space, it seems like everyone wants to help you make money, have less stress, have more time, make your business grow, parent better, and the list goes on and on. It's easy to get lost in the shuffle.
So what makes you and your brand stand out from everyone else?
The types of messaging are the only thing that really differentiates you these days… unless you invented something completely new (and most of us haven't).
In your business, you should have three types of messaging: brand messaging, social media messaging, and email marketing messaging. Each of these types of messaging serves a different purpose, yet they depend on each other and work together for your business and marketing strategy.
3 Types of Brand Messaging
Beliefs
The elements that can make your messaging stand out to your ideal audience can be broken down into three categories;
opinions, beliefs, and manifesto. As a mom entrepreneur, you need to understand what beliefs your audience is starting with and what they believe to be true before they meet you, so you know how to help them work through their beliefs so you can introduce your beliefs. Seth Godin refers to these as the lies people tell themselves in his book, All Marketers Are Liars. Being good at marketing and having good messaging starts with knowing what lies your audience is telling themselves. For example, these can be money beliefs, life beliefs, capability beliefs, etc. When you come up with your beliefs and stories that support your beliefs, you will find it easier to engage with your community better, which will encourage them to get to know you, like you, then ultimately trust you.
Opinions
When we think about our opinions, I want you to think of them as three different categories:
1. Industry opinions
2. Life opinions
3. Tactical opinions.
Industry Opinions: When you look at your professional industry, what are your opinions about how things are done, what should be different, what's important, and what's missing?
For example, everyone in the online space will tell you that live launches are the way to grow your business. But launches are exhausting, and unless done right by the right person, they never turn out the way you planned.
Life Opinions: When you look at the way you live your life, what are some of your opinions about what is important, what isn't important, what to do more of or less of, how to act, how to feel, etc.
For example, I believe that a well-balanced life means that you feel ALL the emotions each month. So a good cry in the bathroom is part of a good life.
Opinions like this allow my audience to feel like they aren't crazy or broken, and instead feel like the things they thought they needed to fix might not be the right problem to focus on AND when they resonate with my life opinions, then it is easier to build trust and loyalty.
Tactical Opinions: What are the strategies and tactics that you believe are most valuable and important in your business?
For example, we believe you will create better engagement on social media with buzz questions instead of training posts. (actually, we have a lot of proof for this) – this is a unique strategy. For the tactical side, don't use polls in Facebook groups. It actually hurts your engagement. Instead, list the three choices and have them give their thoughts in the comments. This ALWAYS works better.
Dana's Tip: When creating your opinions, unless it's an industry opinion, try not to use very jargon words. Think about how can you break down the words you are using to the most simplified version.
Manifesto
The last type of brand messaging your business needs is a manifesto. Your manifesto helps you develop your beliefs in life so you can share and give your audience permission to feel the same way.
When we work through our manifesto in society, we teach our members to use these three starter statements:
I believe…
I want to live in a world where…
This is what I know to be true…
"I believe…" statements are your fun beliefs about life that are allowed in your world. For example, "I believe I can wear a nice shirt on top and yoga pants on the bottom and still be smart."
"I want to live in a world where…" statements are your beliefs about how you want the world to operate. For example, "I want to live in a world where when I say I am a work-from-home mom, it's not considered crazy that my kids go to school."
"This is what I know to be true…" statements are the essence of what you believe. For example, "This is what I know to be true, that every single person has value."
Your manifesto doesn't have to be business related, but if you want to share some of your business beliefs, those are great too! One of mine is, This is what I know to be true, that every mom wants to be the rock for their family that is why they need a business that serves them instead of depletes them so they can have the energy to be that rock.
Once you have your opinions, beliefs, and manifesto, you will develop these great one-liners that can be used everywhere to solidify your belief systems, which helps you build authority and grow your business.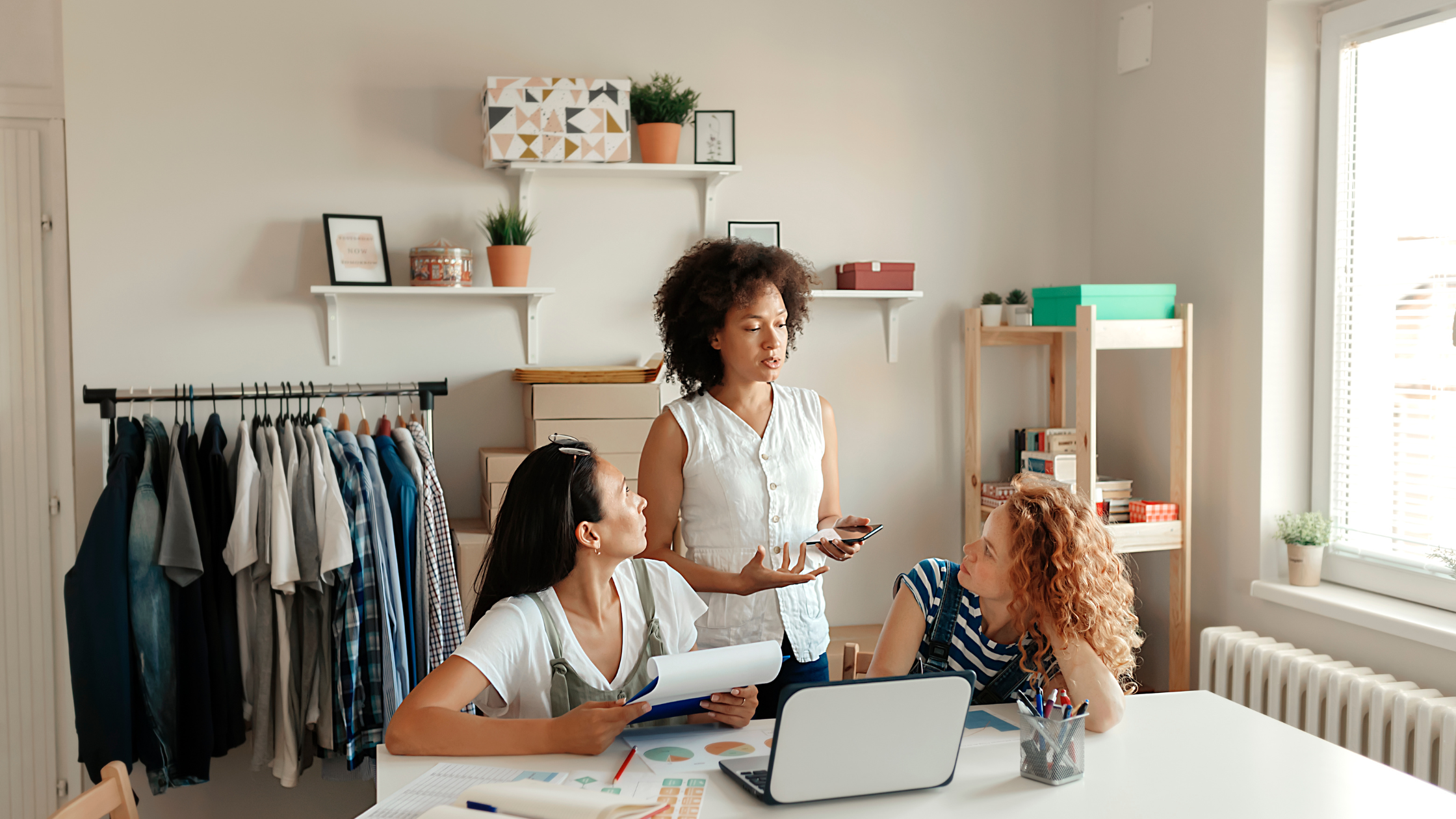 What Types of Messaging Should I Use In My Social Media Strategy
Social media content strategy is the next type of messaging every business should have. Consistent content, posting just to post, is not a social media strategy. Many social media gurus will tell you to post every day, multiple times a day to grow your business. With my years of experience as a content strategist, I strongly disagree.
That strategy doesn't work for most people. It only works when you create strategic content that gets your audience to save your content and get aha moments that leave them remembering you and your content. Once you have a social media content strategy in place, your evergreen system will help you sell your products or services for you even with your inconsistent unpredictable schedule.
Things You Should Start Doing on Social Media
If you are still working on creating your products or streamlining your services, you may wonder how should you be using social media. One of the best ways to use social media is as a market research tool. Simply put, it should act as your additional focus group. This works best for Facebook, not Instagram, but if you are interested in a social media strategy that focuses on Instagram, check out our free masterclass,
Reels with Integrity
.
When trying to get clarity on your messaging, questions are always the answer. When we use social media, we want to use it to get answers that give us clarity on the needs, wants, and struggles of our ideal clients, so we can create better products, offerings, and messaging.
After you work through your opinions, beliefs, and manifesto, go into your Facebook group or other people's Facebook groups and ask questions. Let your audience help you build buzz as your dial in your messaging and get validation. This brand messaging strategy will start new relationships, it will get potential clients on calls with you, and will help you get sales.
What Types of Messaging Should I Use In My Email?
Lastly, email messaging is the final type of messaging every business needs in order to grow.  Our goal with Boss Mom is to make your life easier, so you can create a consistent message and become known as opposed to wasting time posting on social media hoping to be seen, so you can grow your business and have the space to really be there for those precious moments with your family.
If you want to grow authentic connections and relationships with your ideal audience but you aren't sure where to start, the last type of messaging you should use in your business is our permission sandwich formula.
Here's How The Permission Sandwich Works:
Permission: Give your audience permission to be something they are already being.
Clout: Share when you get featured by someone else or share your original content such as a book, blog post, podcast episode, etc.
Training: Give your audience training that either changes their mindset on something or gives them a hack.
Recommendation: Recommend something that adds value.
Ask: Ask your audience to do something such as hop on a call or sign up for your webinar.
Feedback: You ask your audience to give you feedback on a particular thing.
Permission (again): This last permission gives your audience a sense of belonging and community.
So many Boss Moms feel frustrated because they are overwhelmed with social media trends, learning new platforms, and frustrated with the changes in the algorithms and can't seem to figure out how to make this social media thing work for their business.
When paired with an evergreen system and used in your email marketing strategy,
our permission sandwich eliminates all of that
. You can use the permission sandwich for social media, emails, videos, and even webinars. It will help you focus on building authority, so you get to stop making a ton of content that doesn't actually grow your business and just leaves you wondering if you are the problem. It will help you get more leads and increase your sales.
When your messaging is not dialed in, it will always make your business feel harder. If you want to see genuine success in your business, take the time to get your messaging right. Consider who your ideal customer or client is and craft content that speaks to them in a way they'll understand and appreciate. When done correctly, messaging can help increase sales, grow your business, and attract your ideal partners. Have you tried any of these techniques to improve your messaging? Let us know how they worked for you in the comments below!