With Boss Mom Dana Malstaff
Maximize Your Revenue Potential By Packaging Your Skills Into a Digital Course
Creating a course can be the most effective way to scale your business, establish authority and grow your impact!
There's no better person to help you create and launch your course than Amy Porterfield!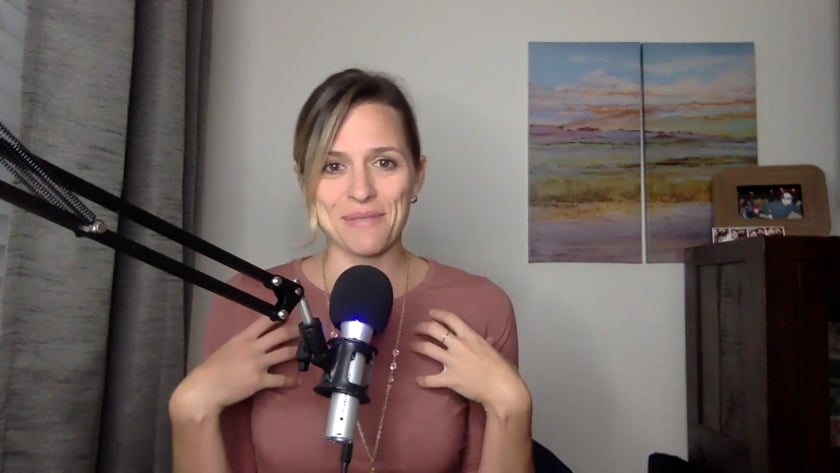 If any of that made you throw your hands up and say, "Dana, you are reading my mind," then I know exactly how to help you.
Right now, you are stuck in a hamster wheel of trading dollars for hours. With only 24 hours in a day, you will eventually reach capacity or will ultimately get burnt out.
The moral of the story is that at some point in your business if you want to be able to make money while you sleep (aka without working hours that keep you sleep deprived) you are going to need to build a course!
And here is the great thing about course creation…the possibilities are endless.
>> You may even have a course (or at least an idea for one), but it has sat stagnant or incomplete for far too long!
Whether you are ready to build out a signature course or just want to create something that will help sustain your business, you will have the ability to set yourself up to grow (and then scale) your business without adding additional hours to your workload!
But, you will need a blueprint to follow from someone who not only has experience mastering it for her own business but who has helped THOUSANDS of business owners do the same.
Are you ready to go all-in?
Well, buckle up, lady because the end of 2019 is going to be unforgettable!
I want to introduce you to the Digital Course Academy!
Amy Porterfield's Digital Course Academy
Digital Course Academy helps online business owners and entrepreneurs turn their knowledge and know-how into a digital course that will generate consistent revenue through live and evergreen webinar launches.
The program provides a step-by-step strategy for the entire course creation journey — from strategy, to planning, to creation, to launching . . . with no fluff and no stone left unturned.
In a nutshell, DCA teaches students how to make the ultimate shift from struggling to make money online, feeling stretched too thin, and feeling uncertain of what they should be doing to create a profitable asset in their business -- a digital course that they can launch over and over again.
Digital Course Academy framework is rooted in Amy's 12 years of creating courses, first for Tony Robbins and then for herself.
The core premise of Digital Course Academy is that a digital course business is the single most powerful and strategic way to make an impact in the world, while growing your income and freedom to life-changing levels.
Amy's own digital courses have generated over $15 million dollars to date. She's been in the trenches for multiple years, creating and launching over 9 digital courses to date.
Many have been home runs (such as the January 2019 launch of DCA that hit $3.5M), and of course, in the early years, a few were complete failures. Which means she knows what works and what doesn't.
But most importantly, Amy knows how to teach what works. She's known for her patient, personable, step-by-step style that does not assume anything, and she delivers the necessities students need to achieve.
Plus you will receive these bonuses from Amy!
12 Weeks of Live Q&A Sessions
with Amy (in a Private Facebook Group)
How to Create a Pre-Launch Runway:
The Ultimate Guide to Attract and Engage Your Audience Before Your Launch Kickoff.
How to Create and Promote a "Workshop Course" in 30 Days or Less:
Step by step guidance on how to create a 2-hour workshop
And if you Pay in Full, you will receive access to the DCA September 2019 Launch Debrief, and see behind-the-scenes of the Digital Course Academy Launch to get an overview of all the big moving pieces and how to make them all work in sync to create a smooth launch experience!
But, the fun does not stop there…
Not only am I 100% confident that the Digital Course Academy will get your course created, implemented and launched, but I am also going to be by your side every step of the way!
When you sign up for the Digital Course Academy through Boss Mom, you will receive some incredible bonuses designed to give you personal, guided support and maximum results throughout the DCA program.
One Day Mastermind in San Diego (for the first 30 people to buy)
($497 Value)
On January 16th, we will host a One-Day Mastermind Intensive with a visit from Amy Porterfield herself! By that time, your course will be complete, so it is time to ramp up your success!

With 1:1 coaching, support from other DCA course creators, and additional support from Amy, we will create and begin to implement a marketing strategy for the year to 10x your course results!
Weekly Group Calls with Dana
($997 Value)
Not only will you get weekly group Facebook Live training with Amy for 12 weeks, but you will get a front-row-seat to 8 weekly coaching Zoom calls with me to help maximize your results (from Oct. 8-Dec 4).
With our weekly group calls, you will receive 1:1 support and accountability that will allow us to work through your specific challenges to ensure you are getting RESULTS!

I have turned Boss Mom into a multi- six-figure business by not only building courses and other digital products, but implementing high-level content marketing strategies to get my courses into the right hands.

...And I want to share all my knowledge with you!
Private Facebook Group
(Priceless)
There is something extremely fulfilling about accomplishing big goals with a tight-knit community cheering you, bouncing ideas, and providing a ton of value and support every step of the way.

Which is why I absolutely HAD to add a Private Facebook Group to my Bonus Package! Creating a successful course is not easy. And like many other things in our crazy lives, it is easier with a village.

You will also get a free Facebook group specifically for the Digital Course Academy, but this group is a smaller break-out space to dive deeper into the material with additional support and more intimate attention.

We don't want you to go through the Digital Course Academy alone because with the support, resources, and accountability you will receive from this group, failure is impossible.
90-Day Email Nurture System
($197 Value)
Once you make your course you are going to want to nurture your community so that you don't feel like all you are doing is asking people to buy. 
Lucky for you, we have the exact system (including over 35 email templates) that will allow you to systematically nurture your audience to fall in love with you and ultimately buy your course.
Your 90-Day Content Calendar
($97 Value)
Your social content, emails, and authority content are such an important part of your online business success. 
Don't leave your success to chance.
Don't waste precious time trying to figure out what to create, write, and post each quarter.

Instead, map out the right content that will help you create the right conversations, build authority, increase engagement, and convert more sales.  
This course helps you map out your exact content for the next 90 days. Perfect for when you want to launch your course. 
Your Sales Enhancement Bundle
($97 Value)
I know that a big fear with course creation is that no one will buy your course. I totally understand. I also know that with every launch you have an opportunity to make it better and better.
The Sales Enhancement Bundle is a group of small pieces of training that help you make your sales pages better, your sales videos better, and review sales pages and sales funnels from some super-successful entrepreneurs. 
Odds are you are only a few tweaks away from doubling your launch next time and this bundle will help you get there.
© 2018 BOSS MOM. All Rights Reserved.