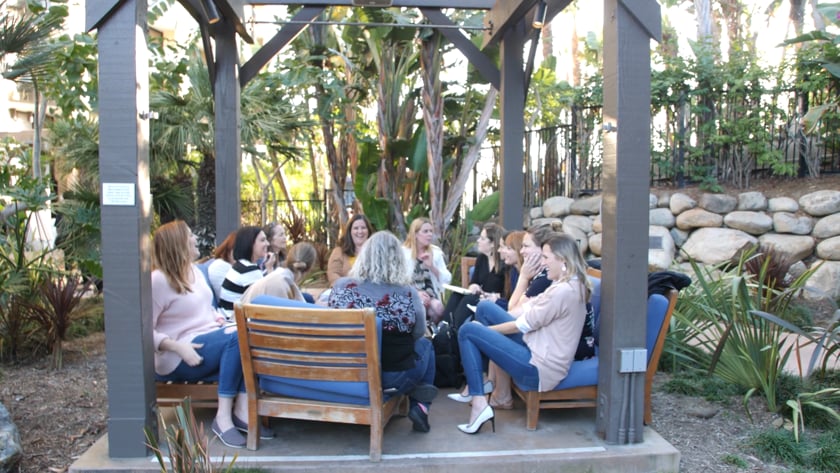 But your business doesn't have to be.
You know the drill … Your kids get sick. School gets cancelled because of the weather. Or sometimes, you just need a mom break. But taking time off work to care for your family or *gasp* yourself, means getting behind …
SPOILER ALERT: It doesn't have to be this way.

If you are ready to build consistent revenue and set yourself up to scale your business without sacrificing your life, the Boss Mom Academy may be exactly what you need.
You are a driven Boss Mom
who knows exactly what she wants out of her business (and life), but you haven't quite found the secret sauce to get yourself there.
And in your life, lady … success and freedom are non-negotiables.
You love your kids, you love your business, and you want to make sure you are supported by other like-minded entrepreneurs who understand that running a business as a Boss Mom looks a little different - logistically and emotionally.
We know that it is not always easy to raise your business and your babies. But being a Boss Mom isn't about trying to find the *balance* of #AllTheThings!
• It's about simplifying our business model to create high-level success and impact without more work
• It's about creating systems that allow you to work smarter - not harder (I'm talking make money while you sleep kind of smart)
• It's about creating an evergreen system that frees up your time so you take back control of your time.
• It's about creating genuine and meaningful impact on the world, all while bringing in consistent revenue.
• It's about predictably scaling your business, so you have the freedom and flexibility to write a book, land more paid speaking gigs, launch that new program, or take more time to be with family.
• And it's about raising our little humans while pursuing our big dreams.
INTRODUCING, THE BOSS MOM ACADEMY
The Boss Mom Academy is a 6-month group coaching program designed to help you reach consistent $10k months by leveraging our proven Nurture to Convert System to grow your business alongside motherhood.
Use our proven framework that helps you organically grow your authority in your space. The Boss Mom Academy teaches you the strategies and tactics that will give your business momentum and establish yourself in the market right away.
Couple a simple sales funnel technique with our Nurture to Convert system to help you bring in consistent leads, build revenue quickly and authentically nurture your audience to create higher conversions and a highly engaged audience. 

Take advantage of organic social media strategies to 10x engagement, build your online community, prime the algorithms so more people see your content and position yourself as a leader in your industry. And not have to spend hours a day glued to your phone. (unless you like watching funny videos on YouTube like me)
Learn how to close sales on calls, on webinars and in training with tried-and-tested methods without feeling pushy or sales-y.
Get customized support from a content marketing expert (that's me) each week as well as support from other like-minded Boss Moms! In the Boss Mom Academy, we understand what it's like to be a parent and build a business at the same time, and do it both successfully.
And most importantly, build a business that is not dependent on you so you can have the flexibility and control over where you spend your time - whether that is getting your hands in a new social media strategy, diving into the latest industry trends, enjoying that well-deserved spa day, or snuggling with your littles while watching Disney movies!
"The Boss Mom Academy was exactly what my business needed. I received brilliant business strategy and insight from Dana along with networking and accountability from the other ladies in the program. Plus she helped me launch my first online course which has grown into a membership site that has allowed me to scale my business and make money while I sleep!"
Kathleen Kobel, Amazon Expert
"Joining the Boss Mom Academy has been a business and life-changing decision. Within the first 2 months of joining, I gained the confidence, knowledge, relationships, and skills, that enabled me to repay the cost of the program in full. Through Dana's masterful, direct yet encouraging, coaching style, I have learned how to develop and execute my business strategy, while implementing practical daily tactics to help grow my business."

Liz Thompson, House Style Editing
Zac: "My wife joined the Academy and I bet her that if she met my income in 6 months, that I'd start calling Benjamin's Dana's. Let's just say we're bringing in plenty of Dana's now."
Lilah: "She doesn't just coach, she connects you to incredible people, and consistently shifts to the needs of her students."

Did we mention that Zac got to quit his job and is pursuing his own career as an online entrepreneur?
Lilah & Zach Higgins, Higgins Creative
I get you. I see you. I was you. After the constant ebb and flow of running a business, you feel a bit vulnerable so you need someone you can trust and who understands you!
I have seen and experienced the ups, downs, and sideways turns of running a business, so let my experience be your fast-track ticket to reach your goals a heck of a lot faster than I did (and I think I did it pretty fast!)
As moms, we should run and grow our businesses in a way that ensures our business supports us and doesn't take away from what's truly important.

With my series of tried, tested and proven business systems and strategies, you will receive everything you need to start making big (and strategic) moves in your business.
I'll be honest with you, lady. Before Boss Mom was born, I spent several years struggling to get sales. I would try to launch products that didn't sell. With each launch, I grew more stressed, overwhelmed, exhausted and all those other words we strive not to be. 
And on top of that, I didn't feel like I was making an impact anywhere.
At the time, I felt like I had two options.
I could get really good  at selling the *stuff*, but would not have time to build an impactful relationship with my audience.

Or I could pour out my heart to build impactful relationships, but struggle to find the right moment to ask for the sale.
I refused to accept either option.
I was convinced that sales and relationships could coexist without taking up more time and energy in my business.
And that's when Boss Mom was born. And after years of perfecting a community-based business that impacts thousands of women AND makes amazing revenue I was able to refine it all down to one tried and true process.
Enter the Boss Mom Nurture to Convert System . . .
I have spent the last 6 years building and teaching a proven process and framework that allowed me to nurture my audience in a truly meaningful and impactful way - the way we build offline relationships … all while successfully selling my products and services.

And in addition to experiencing the journey first hand...
BUT DON'T JUST TAKE IT FROM ME..
GROUP COACHING CALLS
Each week we will break down any barriers you are facing to move your business forward in our group coaching calls. These calls give you the decision support needed to keep progressing each week and make sure you have the right resources you need to focus on the right things that will get you better results.

BMA Weekly Huddles take place at 11 am pst / 2 pm est every Wednesday
PRIVATE COMMUNITY
You are going to fall in love with the other ladies in the Boss Mom Academy and since we have new members join each month you will want to be able to connect with other members, get accountability, share your wins & challenges, ask for feedback, and more. 
​​​​​​​To help us get off Facebook and stay focused we have a dedicated BMA Slack channel.
ONE-ON-ONE COACHING CALLS
I am a true believer that a group program is one of the most powerful ways to grow your business, but I also think that we need some extra love and dedicated one-on-one time. That's why you get 2  (50 min) 1-on-1 Strategy Calls with Dana (that's me!) throughout the program. At the beginning, we will set a strategy so you can maximize the benefits of the weekly group huddles, and then you get to use the other strategy call when it makes the most sense for you and your business. 
2 Strategy calls (50 min)
CONTENT REVIEW
Creating content that generates big results can be one of the hardest aspects of online business. It's not just about following a template (which we have) it's also about making sure that what you create will resonate with your audience and support them throughout their customer journey.  Our content reviews are for you to get support and feedback so you keep converting more each time around.

We help you tweak and refine sales pages, emails, packages, proposals, social planning, ads, and more.
ACCESS TO THE NTCS MEMBERSHIP
The Nurture to Convert Society is where you can find our four-part system (Build Authority, Create Content, Leverage Social Media, Grow Sales). Plus there are over 40 different bonus courses and training to help you learn new skills, create high-level content, and nurture your prospects. (basically every time I create something new it goes into the society). This means that you don't have to wait for the weekly calls to get value or search the internet for answers. You have a crazy amount of resources to help you move your business forward without slowing down!
You receive access to the Society for 6 months
TWO DAY LIVE MASTERMIND
We love to meet online and video chat, but meeting and connecting in person is a gamechanger . You get a free ticket to the Academy Mastermind in the beautiful and sunny San Diego! We meet for two days to create content, spend time refining your messaging and participating in intense strategizing and in-depth  masterminding with other academy members. 
Our Masterminds takes place in May and November of each year.
If you answered 'yes' to any of the statements above, then this is for you...

If you are screaming YES! Someone finally understands me, then this is for you …

If you believe that women CAN have a successful business while raising tiny humans, then this is for you …

And do not have to do it alone.

While we don't guarantee that you will make your investment back in 30 days, we sure try our hardest (and many of our BMA members have). If you show up, put in the work and follow our proven Nurture to Convert system, we will do what we can to ensure you are making consistent revenue and growing each month.
Book Your Fitting Call
The 20-minute fitting call is a safe place where you can share your dreams and your challenges so that we can figure out the one thing you need to do now to move your business forward.

We can't wait to talk to you!
I know as Boss-Moms, we all have different goals, desires and ways of leading our lives, but one thing brings us together - our desire to pursue what we love, love who we are,  and create something beautiful in this world.

The Boss Mom Academy is your one-way-ticket from stuck to success with the support, resources and connection you need to build your unique journey to reach your goals.

I believe in what you can do, lady … and would be honored to help you get there.

I heart your face,
Dana

© 2018 BOSS MOM. All Rights Reserved.